WiZ Wi-Fi Mobile Portable Light 便攜式的智能燈具
$788.00
Shipping calculated at checkout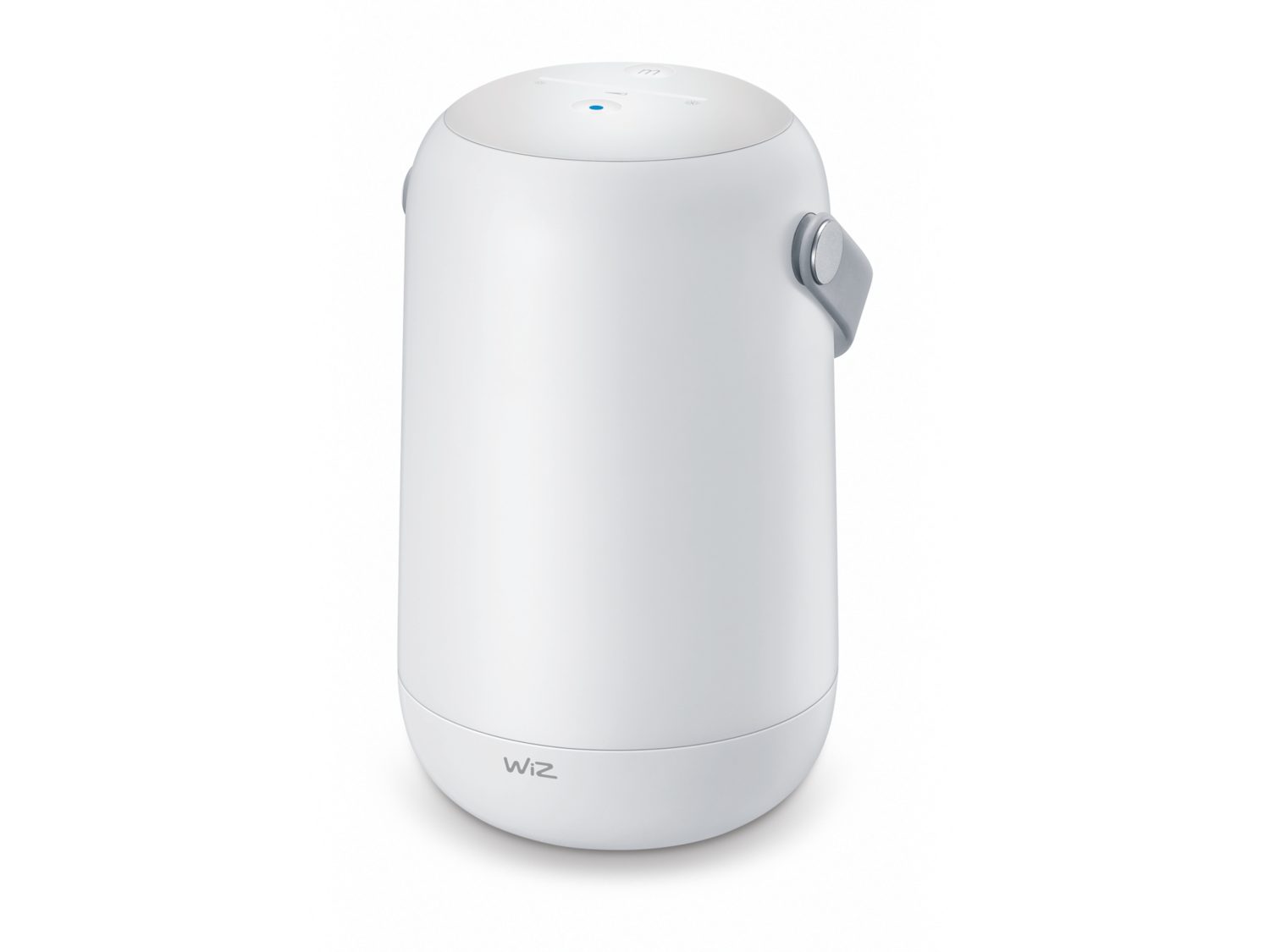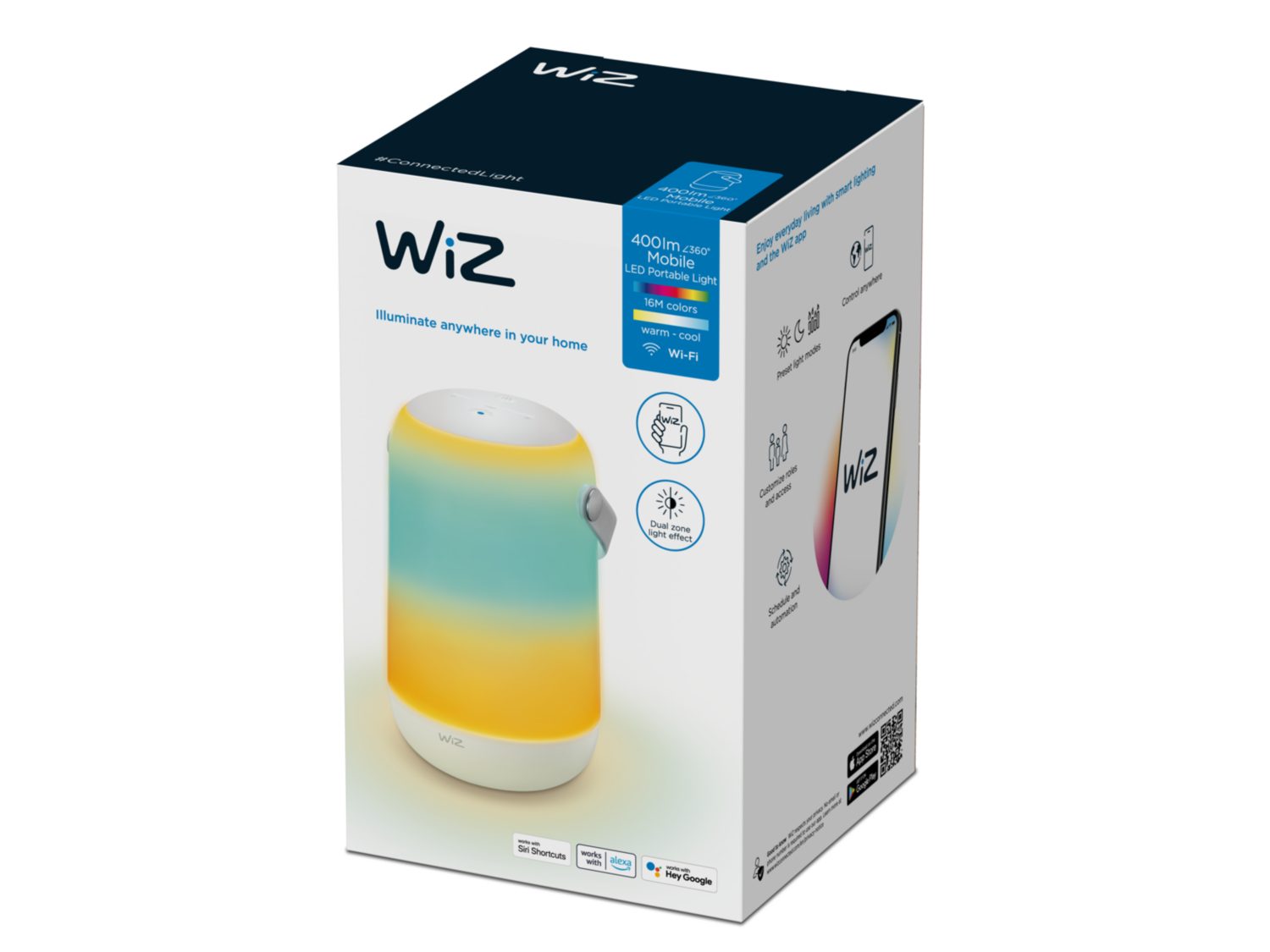 WIZ WI-FI MOBILE PORTABLE LIGHT是一款便攜式的智能燈具,它能夠讓您探索無盡的柔和燈光和多彩漸變,並將您的個人空間變得更加特別。您可以隨時隨地攜帶這款移動式LED燈,無論是在家裡還是在戶外,都能讓您的角落變得更加溫馨舒適。
WIZ WI-FI MOBILE PORTABLE LIGHT採用簡單的插即用設計,與您現有的Wi-Fi路由器兼容,不需要額外的網關。只需插上您的新燈,下載WiZ應用程式,即可輕鬆使用!
使用智能手機,您可以隨時隨地控制WiZ燈具,無需擔心在離家前忘記關燈。WiZ應用程式適用於iOS和Android,讓您可以隨時隨地掌握燈光。
您可以根據自己的日常或每週例行安排,自動調整燈光的開關時間,使其更加符合您的生活節奏。
WiZ擁有多種預設的動態燈光模式,您可以混合不同的彩色和白色燈光模式,創建出完美的燈光氛圍,並隨時隨地透過應用程式、WiZmote或語音呼叫。
WIZ WI-FI MOBILE PORTABLE LIGHT採用便攜式設計,具有內置可充電電池,可以隨時隨地使用。您可以攜帶這款便攜式燈具,照亮花園派對、浪漫晚餐,甚至是和孩子一起說故事的時刻。
WIZ WI-FI MOBILE PORTABLE LIGHT支持Google Assistant、Alexa或Siri Shortcuts語音控制,您可以使用簡單的語音指令,輕鬆地控制燈光的開關、調節亮度、改變顏色和設置自定義燈光模式。
WIZ WI-FI MOBILE PORTABLE LIGHT還擁有獨特的雙區燈光效果,您可以嘗試多種燈光模式,創造出獨特的漸變燈光效果,並且通過觸控面板,輕鬆地開關燈光,調節亮度和更改燈光模式。


Mobile Portable Light
Turn your personal space into all kinds of special by exploring endless combinations of soft light and colourful gradients. Bring Mobile LED light along, anywhere inside or even outside your home and make your cosy corner truly inviting.

即插即用。 適用於您現有的 Wi-Fi。
WiZ 可與您現有的 Wi-Fi 路由器配合使用,無需額外的網關。 只需插入您的新燈,下載 WiZ 應用程序即可開始使用!

Easy plug-and-play. Works with your existing Wi-Fi.
WiZ works with your existing Wi-Fi router, no additional gateway is needed. Simply plug in your new light, download the WiZ app and you're ready to go!


Control from anywhere with your smartphone.
Control your WiZ lights wherever you are with smartphone. No need to worry if you've left your lights on before leaving home. WiZ app is available for iOS and Android.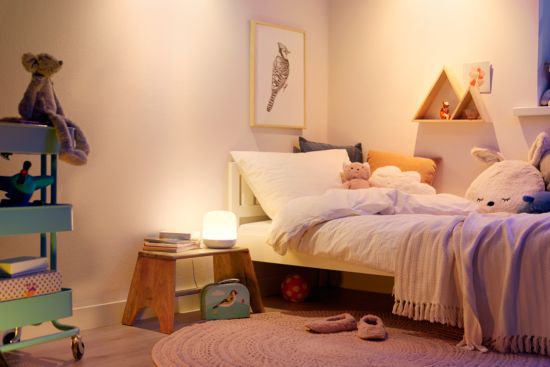 Automate your light with schedules
Automate the lights to fit your daily or weekly routines. Schedule your light to turn on before you arrive home and keep it off when not needed.

Customise Scenes with preset dynamic light modes.
Mix different colour and white lights modes to create the perfect light ambience for your daily moment. Save it and call it out at any time with app, WiZmote or voice.
Portable design to bring light everywhere
A handy, wireless lamp with a rechargeable built-in-battery. Carry this portable light wherever you go, to illuminate a garden party, a romantic dinner or even story time with the kids.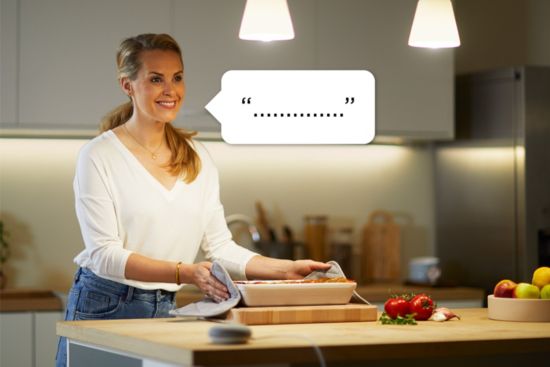 Voice control with Google Assistant, Alexa or Siri Shortcuts
Get hands-free control of your lights by using your voice and Google Assistant, Amazon Alexa or Siri Shortcuts. Use simple voice commands to turn lights on or off, brighten and dim, change colour and set custom light Scenes.
Unique dual zone light effect
Try a variety of light modes to create a unique gradient light effect in your style. Simply set the upper and lower parts of the lamp to emit different colours.
Touch to control the light
This lamp features a touch panel for turning it on/off, and changing your favourite, pre-set light modes. A simple swipe will dim the light. You won't even need your smartphone or a voice assistant.
Specifications
Bulb characteristics

Intended use

Indoor

Lamp shape

Round
Design and finishing

Colour

white

Material

plastic
Durability

Average life (at 2.7 hrs/day)

25 a

Lumen maintenance factor

70%

Number of switch cycles

50,000
Extra feature/accessory incl.

Adjustable spot head

No

Dimmable with remote control

Yes

LED integrated

Yes

On/off switch on wire

No

Power adapter included

Yes

Remote control included

No

Centrepiece

Yes
Light characteristics

Colour consistency

6SDCM

Colour rendering index (CRI)

80

Warm-up time to 60% light

<2
Miscellaneous

Especially designed for

Functional
Other characteristics

Lamp current

90 mA

Efficacy

29 lm/W
Power consumption

Power factor

0.6

Voltage

220-240 V
Product dimensions and weight

Height

19.3 cm

Length

11.6 cm

Net weight

0.65 kg

Width

11.6 cm
Service

Warranty

2 year(s)
Technical specifications

Lifetime up to

25,000 h

Diameter

116 mm

Total lumen output fixture

400

Light colour

2200-6500 (RGB)

Fixture dimmable

Yes

LED

Yes

Built-in LED

Yes

Wattage bulb included

13.5

IP code

IP20

Class of protection

Class II
Packaging dimensions and weight

EAN/UPC - product

8719514554436

Net weight

0.650 kg

Gross weight

1.100 kg

Height

27.200 cm

Length

16.500 cm

Width

16.500 cm

Material number (12NC)

929003211616