WiZ Adria 17W 4000K Dimmable Ceiling Light 可調光智慧吸頂燈
$428.00
Shipping calculated at checkout
Description

Product highlights
WiZ Adria 17W 4000K 可調光智慧吸頂燈是一款能夠為您家居帶來更加智慧化、舒適的照明體驗的產品。WiZ Adria 17W 4000K 可調光智慧吸頂燈設計簡單易用,即使沒有調光器,您也可以使用 WiZ 應用程式或語音來調節房間的亮度和開關。
WiZ Adria 17W 4000K 可調光智慧吸頂燈可調節燈光的亮度,讓您可以輕鬆地調節房間的亮度,為您帶來更加舒適的照明體驗。您可以使用 WiZ 應用程式或語音來開啟、關閉、調暗或調亮房間燈光。
WiZ Adria 17W 4000K 可調光智慧吸頂燈的外殼由金屬和塑料製成,燈體為白色,簡約時尚。它既擁有 Wi-Fi 功能,也支持藍牙連接,能夠與智慧手機、平板電腦、筆記型電腦等多種設備配對使用。
WiZ Adria 17W 4000K 可調光智慧吸頂燈不僅提供了實用的照明功能,還具有智慧化的特點。您可以通過 WiZ 應用程式控制燈光,隨時隨地調節燈光亮度,滿足不同需求。而且,它還支持語音控制,您可以通過語音指令來控制燈光開關和亮度。
Dim the room (without a dimmer switch!) with the WiZ Adria LED dimmable white smart ceiling light. Use with the WiZ app or your voice to turn on and off or dim and brighten the room on Wi-Fi set-ups.
Dimmable
Metal/Plastic/White
Wi-Fi + Bluetooth

Easy plug-and-play. Works with your existing Wi-Fi.
WiZ works with your existing Wi-Fi router, no additional gateway is needed. Simply plug in your new light, download the WiZ app and you're ready to go!

Control from anywhere with your smartphone.
Control your WiZ lights wherever you are with smartphone. No need to worry if you've left your lights on before leaving home. WiZ app is available for iOS and Android.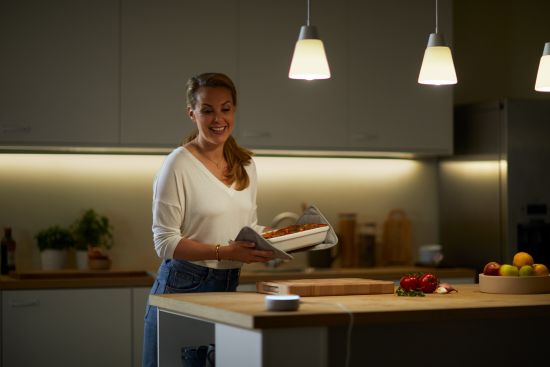 Smart dimming via app, voice or dimmer
Dim your lights to your desired brightness level via your smartphone, the WiZmote or your voice. No need to install an expensive dimmer.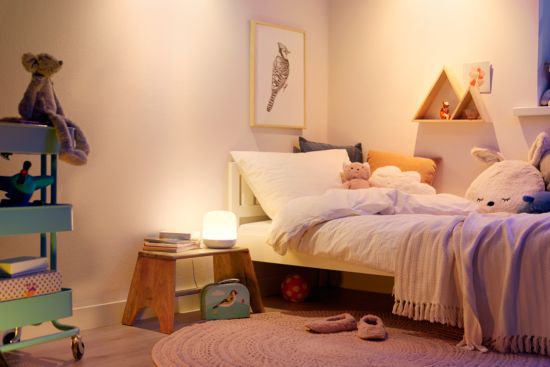 Automate your light with schedules
Automate the lights to fit your daily or weekly routines. Schedule your light to turn on before you arrive home and keep it off when not needed.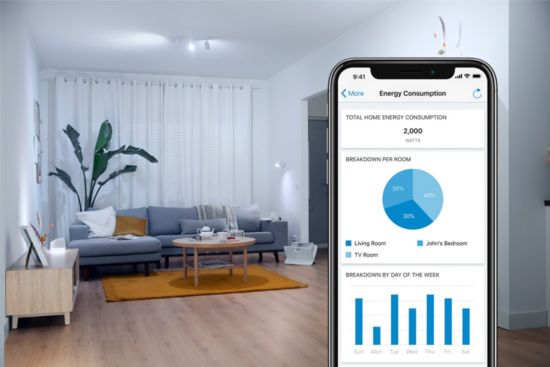 Energy monitoring
The WiZ app keeps records of the energy consumption of your lights. View your weekly or daily report and plan your lighting wisely for optimised energy consumption at home.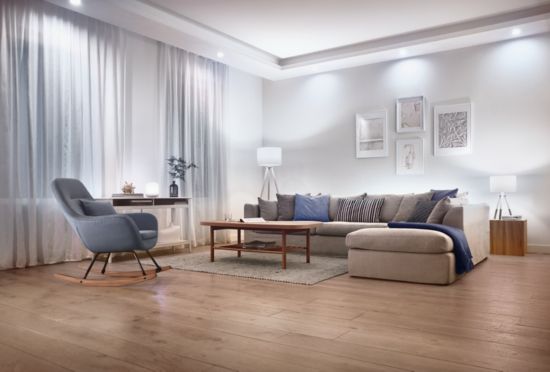 Cool white light
Brighten up your home with energising cool white light. A smart light that simply adapts to your daily activities

Uniform light distribution
Get even light throughout the room with this light, which uniformly distributes its soft, bright light all around.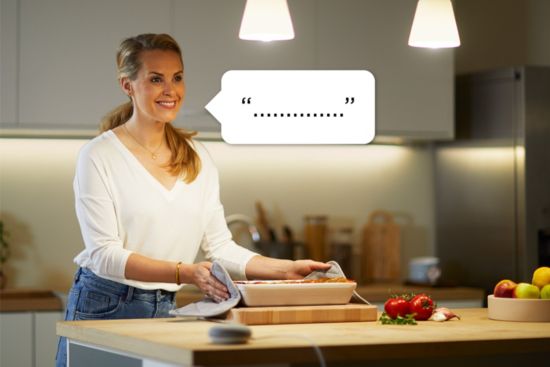 Voice control with Google Assistant, Alexa or Siri Shortcuts
Get hands-free control of your lights by using your voice and Google Assistant, Amazon Alexa or Siri Shortcuts. Use simple voice commands to turn lights on or off, brighten and dim, change colour and set custom light Scenes.
Specifications
Design and finishing

Colour

white

Material

metal/plastic
Extra feature/accessory incl.

Adjustable spot head

No

Dimmable with remote control

Yes

LED integrated

Yes

Remote control included

No

Centrepiece

Yes
Light characteristics

Colour rendering index (CRI)

80
Miscellaneous

Especially designed for

Functional
Power consumption

Voltage

220-240 V
Product dimensions and weight

Height

6.8 cm

Length

32 cm

Net weight

0.45 kg

Width

32 cm
Service

Warranty

2 year(s)
Technical specifications

Lifetime up to

15,000 h

Diameter

320 mm

Total lumen output fixture

1700

Light colour

4000

Fixture dimmable

Yes

LED

Yes

Built-in LED

Yes

Wattage bulb included

17

IP code

IP20

Class of protection

Class I
Design and finishing

Colour

white

Especially designed for

Functional

EAN/UPC - product

8719514338074

Warranty

2 year(s)

Net weight

0.420 kg

Material

metal/plastic

Gross weight

0.636 kg

Adjustable spot head

No

Colour rendering index (CRI)

80

Height

35.200 cm

Height

6.8 cm

Lifetime up to

15,000 h

Length

7.200 cm

Width

35.200 cm

Voltage

220-240 V

Length

32 cm

Net weight

0.45 kg

Width

32 cm

Diameter

320 mm

Dimmable with remote control

Yes

Total lumen output fixture

1700

Light colour

4000

LED integrated

Yes

Fixture dimmable

Yes

LED

Yes

Built-in LED

Yes

Wattage bulb included

17

IP code

IP20

Class of protection

Class I

Remote control included

No

Centrepiece

Yes
Other

User manual

No manual available